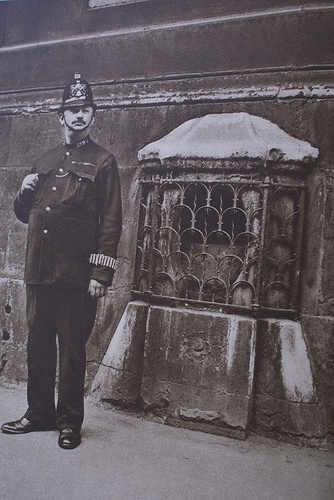 Walk down Cannon Street, and you'll probably never even realize that sitting behind the metal and the glass on the sidewalk is the
London Stone
, the oldest piece of London.
The London Stone is a historic landmark at 111 Cannon Street. It's a block of limestone measuring 53 x 43 x 30cm, and is the remnant of a much larger stone that stood for many centuries on the south side of the street. Moved in the 1700s to the north side of the street, it was built into the wall of the former Church of Saint Swithun before the church was bombed in WWII, yet the the Stone was left unharmed.
Also known as the Stone of Brutus after the mythical founder of London, the actual age and purpose of the stone remains a mystery. The name "London Stone" was first recorded in historical documents around 1100. Shakespeare and Dickens have mentioned the stone in their writings, and it remains the subject of many myths, including a far fetched one that it was the stone from which Arthur withdrew Excalibur. The most likely theory is that this ancient stone is from the Romans and is the place from which they measured all distances in Great Britain. But for many hundreds of years it was recognized as the symbolic authority and heart of the City of London.
Today, the stone sits overlooked in a glass case behind an iron grille opposite Cannon Street Station. A better view of it can be had inside the building where it's protected by a glass case. Although the stone and its surround, were designated a Grade II listed structure in 1972, the existing building is scheduled for redevelopment and planning is under way to ensure the stone's survival by possibly moving it to the Museum of London. Some Londoners who are not happy about this want to remind them of the stones's ancient warning "So long as the Stone of Brutus is safe, so long will London flourish." Beware!